A
recent study
in the UK revealed that energy generated by communities can produce about 13% of all Britain's household power needs.  With the right policies in place this potential could rise to 54%, according to the report. Similar studies in the US indicate this kind of potential's there in the US as well.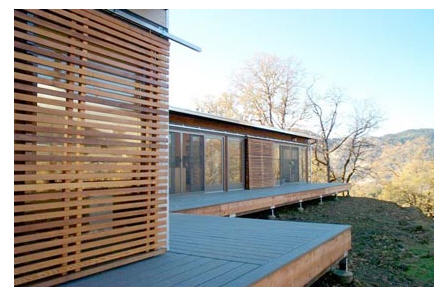 A US example of how businesses are responding to the new realities is the Southeastern Texas company GreenPointe Holdings LLC. The company was launched a few months back by Ed Burr, a seasoned real estate developer. He plans to develop financially feasible eco-friendly communities throughout the Southeast and Texas. Burr is aiming to coordinate with public/private partnerships to get infrastructure projects going.
"Our company is unique because we are fusing the concepts of green building and sustainability, and the interlocking function of public/private partnerships," Burr was quoted as saying in a US newspaper.
The company's Jacksonville offices are a live testimony to this business strategy. Energy saving air conditioners are placed on the roof, climate neutral carpets line the floors, the bathrooms have been fitted with double flushing toilets, appliances in the kitchen are Energy Star rated and the walls sport eco friendly paint.  Oh, and there's the lighting – all energy saving compact fluorescent bulbs. Everything has been thought of.
The company aims to build residential developments in much the same style. But it's not only housing that Burr is going to focus on; he's all about infrastructure. And that means roads, sewage systems and other structural public developments are going to emerge under his supervision.
But there's only a limited amount of guidelines that people like Burr have at their disposal. Burr for the moment builds using the recommendations of the U.S. Green Building Council's Leadership in Energy and Environmental Design (LEED), which offers a prestigious certification program.
The price tag? Burr's office cost fifteen percent more than when the offices had been erected with conventional materials. But let's not talk about money just yet. Let's instead look what ecological community building boils down to in the UK, a country which is much further evolved in getting its communities to adopt ecological issues. A quick study learns that that energy is central to all efforts. The Energy Savings Trust, which aims to promote the efficient use of energy and carbon footprint reductions, has proposed to create community energy services companies (ESCOs) to initiate and finance projects. Financial calculations show that considerable savings can be made by scaling up wind, solar or biomass schemes from individual to community-sized projects. Information on the Trust's website shows that private households could save 34% of the cost of producing solar hot water and 18% of electricity from wind turbines.
A global energy report by McKinsey underscores the crucial importance of energy considerations. The study's main conclusion is that globally a large portion of the untapped potential for cost-effective energy productivity gains lies in the residential sector. Key here is better building shells and more efficient water heating and lighting. The Mc Kinsey analysts argue that the demand for energy could be curtailed by focusing on economically viable opportunities for energy-productivity improvements. They project that global energy-demand growth could be kept at less than 1% per annum – or less than half of the 2.2% average growth to 2020 generally anticipated.
A living example of a thriving community which uses only a fraction of the energy that regular communities use is the London-based Beddington Zero Energy Development, or BedZED community. BedZED is the UK's largest eco-village and it has been around since 2002. Designed by Bill Dunster Architects and developed by Peabody Trust and the BioRegional Development Group. It is a community of 100 homes and provides work space for 100 people who share facilities. The heating requirements of BedZED homes are around 10 percent of those of a regular home. True. And water usage is cut down by 50 percent.
GreenPointe also will focus on creating communities that thrive on energy saving practices. Zero-net water and zero-net carbon are buzz words Burr uses a lot. His business case might be obvious to you and I. Yet how will home owners in general take to the higher initial costs that building green involves as the economic situation continues to deteriorate? And what about the downturn in the real estate sector? Will US consumers really start to chase after homes that are built in an environmentally friendly way or will they go for cheapness and forget about the environment? Various studies point out that green buildings, despite their higher upfront cost, turn out more attractive financially because of their energy saving features.
"In order to avoid repeating the dire situation so many home owners are in today, it is critical that our thinking evolve around home costs," said Michelle Kaufmann, founder and chairwoman of Michelle Kaufmann Companies. She's just published a white paper about the US housing industry which provides good insights in the changing perceptions of cost structures in the real estate sector. "Sticker price and mortgage payments are only one part of the equation. Once we start to equate monthly costs with the true costs of a home, the positive impact will reverberate among home owners who will be less likely to find themselves living in homes they cannot afford and more likely to choose green homes which are often more affordable in the long-term," says Kaufmann.
Already, construction of green homes has risen to 6 percent in 2008 compared to 2 percent in 2005, report analysts at McGraw-Hill Construction in a study entitled In "The Green Consumer: Driving Demand for Green in Homes. In monetary terms, that's a handsome $5 billion increase in market value. Future projections are that by 2010, 10 percent of the building sector will have adopted ecological principles, representing a total value of $60 billion.